Elevate your workout experience and revamp your fitness wardrobe with Arnold Gym's official website. In this blog, we'll explore ten essential gym wear for men and women, each carefully selected to enhance your performance and style. From moisture-wicking t-shirts to functional gym bags, Arnold Gym offers a wide range of high-quality fitness attire. Join us as we dive into the details of these essential gym wear that will transform your workout routine!
Essential Gym Wear with Arnold Gym!
Men's Gym T-Shirts: The cornerstone of any workout wardrobe, men's gym t-shirts provide comfort and freedom of movement during exercise. Arnold Gym's collection of t-shirts features moisture-wicking fabrics that keep you dry and cool while allowing unrestricted movement. Whether you prefer a classic fit or a more athletic silhouette, these t-shirts are designed to enhance your performance and keep you comfortable throughout your workout.
Oversize Gym T-shirts     Legacy Fitness Tops    Strong Dutch Gym T-shirt 
Fitness Vest and Tanks: If you prefer a sleeveless option that optimizes breathability and range of motion, fitness vests and tanks are must-haves. Arnold Gym offers a range of vests and tanks crafted from lightweight materials that wick away sweat, keeping you cool and dry while you push your limits during high-intensity workouts.
Women's Dry-Fit Tanks   Golden Era Gym Vest  Women's Performance Vest
Fitness Socks: Don't underestimate the importance of quality workout socks. Arnold Gym's fitness socks employ moisture-wicking technology and cushioning support to keep your feet dry, comfortable, and blister-free. Designed with durable materials and a secure fit, these  bamboo fitness socks provide essential foot protection during even the most intense workouts.
Gym Leggings: Gym leggings are no longer exclusively for women; they are becoming increasingly popular for men too. Arnold Gym's gym leggings for women offer moisture-wicking capabilities and a supportive fit that enhances muscle activation and mobility. Crafted from stretchable fabrics, these leggings allow for unrestricted movement, providing optimal comfort during your workouts.
Women's Tech Gym Leggings   Seamless Knitted Leggings    Denim Leggings
Gym Hats: Shield yourself from the sun and keep sweat out of your eyes with Arnold Gym's gym hats. Designed with breathable materials, these hats provide essential shade and ventilation during outdoor workouts. With adjustable closures and a variety of styles to choose from, you can find the perfect gym hat that suits your preference and completes your workout ensemble.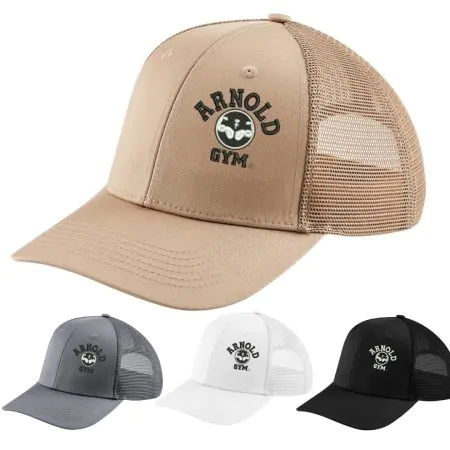 Fitness Underwear: The right fitness underwear is the foundation of a comfortable workout. Arnold Gym offers moisture-wicking fitness underwear designed to keep you dry, comfortable, and chafe-free during even the most intense training sessions. With ergonomic designs and breathable fabrics, these underwear options will keep you focused on your workout without any distractions.
Gym Hoodies: A gym hoodie is a versatile addition to your workout wardrobe, suitable for both warm-ups and cool-downs. Arnold Gym's hoodies are crafted from lightweight and breathable materials, providing warmth without sacrificing mobility. With stylish designs and functional features such as kangaroo pockets and adjustable hoods, these hoodies are perfect for layering or as standalone outerwear.
Gym Bags: Stay organized and transport your essentials with ease using Arnold Gym's gym bags. These spacious and durable bags feature multiple compartments to store your workout clothes, shoes, towels, and accessories. With sturdy straps and reinforced construction, these gym bags are designed to withstand the rigors of daily use, ensuring your workout gear is always securely stored and ready when you are.
Essential Gym Bag      Pro Fitness Duffle Bag    Vintage Canvas Gym Bag
Fitness Shoes: Investing in the right fitness shoes is essential for optimal performance and injury prevention. Arnold Gym offers a wide range of fitness shoes designed with cushioning, stability, and support in mind. With innovative features and cutting-edge technologies, these shoes help you maintain proper alignment, absorb impact, and enhance your overall workout experience.
Fitness Shorts: Fitness shorts are a go-to choice for many workouts, providing maximum mobility and breathability. Arnold's fitness shorts are crafted from lightweight and moisture-wicking materials, allowing for unrestricted movement while keeping you cool and comfortable. With various lengths and styles available, these shorts are perfect for high-intensity activities or casual gym sessions.
Retro Training Shorts  Victory Fitness Shorts   Bodybuilding Original Shorts
Enhance your workout performance and comfort with the essential gym clothes offered by Arnold Gym. From moisture-wicking t-shirts to durable gym bags, their extensive collection provides superior quality and style for every fitness enthusiast. Explore the options on Arnold Gym's e-commerce website and build a versatile workout wardrobe that enhances your potential and motivates you to achieve your fitness goals. Elevate your workouts with confidence and style by choosing Arnold Gym as your go-to fitness apparel destination!