In the realm of fitness and active living, finding the perfect balance between performance, comfort, and style can be a daunting task. However, Arnold Gym emerges as a beacon of excellence, offering a premium collection of active wear that caters to the needs of both men and women. Discover why Arnold Gym is the go-to brand for modern fitness enthusiasts.
Unleashing the Power of Active Women
Arnold Gym recognises the unique requirements of active women and offers a meticulously curated collection that combines functionality and style. From moisture-wicking sports bras to leggings crafted with the perfect blend of flexibility and breathability, each garment aims to empower women in their fitness pursuits. Feel confident, comfortable, and ready to conquer any challenge with Arnold Gym's active wear for women.
Elevating Performance with Active Men's Wear
Arnold Gym's active men's wear collection rises to the occasion, delivering a range of gym wear that seamlessly blends functionality and fashion. Engineered with cutting-edge technology, their active wear t-shirts, workout shorts, and joggers prioritise comfort and durability. Embrace Arnold Gym's active wear to confidently push your limits and achieve your fitness goals in style.
From Gym to Street
A Seamless Transition with Sportswear, Arnold Gym understands that active living extends beyond the gym. Their versatile sportswear collection effortlessly transitions from workout sessions to everyday life. Make a statement both in and out of the fitness arena with trendy hoodies, sleek track pants, and performance-driven jackets that perfectly blend style with practicality.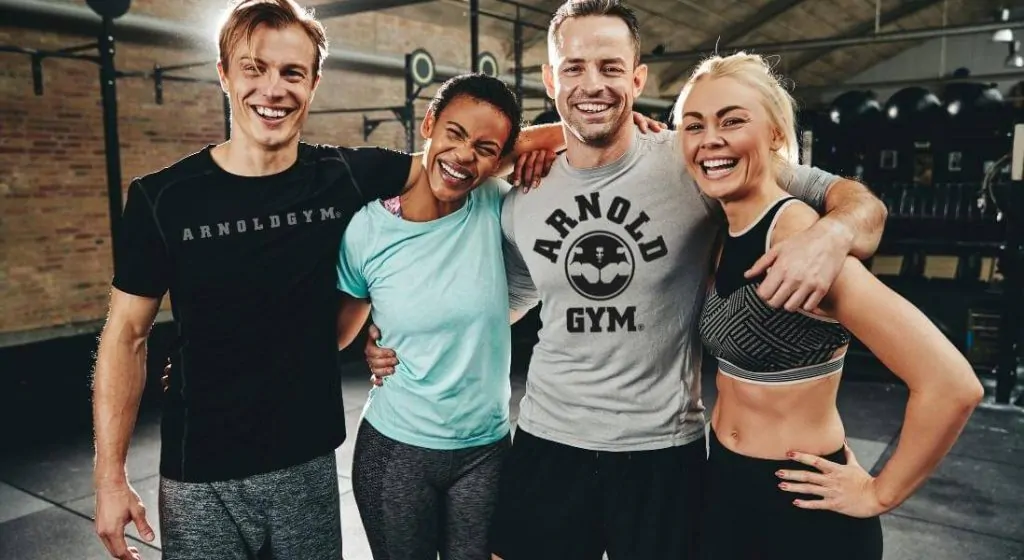 Comfort Meets Style
Even during moments of relaxation, Arnold Gym provides the highest level of comfort without compromising on style. Their casual wear collection showcases garments that effortlessly combine comfort with contemporary designs. From cozy sweatshirts to trendy joggers, maintain a polished appearance while embracing a relaxed and effortless aesthetic.
When it comes to moments of relaxation, Arnold Gym understands the importance of both comfort and style. With their exceptional casual wear collection, they provide garments that effortlessly combine the highest level of coziness with contemporary designs. From cozy sweatshirts to trendy joggers, you can maintain a polished appearance while embracing a relaxed and effortless aesthetic.
Arnold Gym's casual wear collection is the epitome of comfort. Their cozy fitness sweatshirts are crafted with premium fabrics that provide a plush feel against your skin. Whether you're lounging at home or running errands, these sweatshirts envelop you in warmth and softness, making relaxation an absolute delight.
In addition to their dedication to comfort and style, Arnold Gym also prioritizes the use of high-quality materials. The durability of their casual wear ensures that you can enjoy their garments for a long time, maintaining their excellent condition even with frequent use.
Craftsmanship and Durability
Arnold Gym sets itself apart by prioritising craftsmanship and durability in every garment, from stitching to finishing. Each item in their collection exudes quality, ensuring that customers receive apparel that withstands rigorous physical activity and stands the test of time. Trust Arnold Gym's active wear to remain resilient and supportive throughout your fitness journey.
Experience Excellence with Arnold Gym
Stand at the forefront of the active wear industry and redefine your fitness journey. With an extensive range of gym wear and clothing designed for both men and women, Arnold Gym caters to the diverse needs of modern fitness enthusiasts.
Discover the pinnacle of quality, innovation, and style with Arnold Gym as they continuously redefine the boundaries of active wear.