Best Selling in the T-shirt Category
Best Selling in the Tanks&Vests Category
Best Selling in the Sweatshirts Category
Best Selling in the Shorts Category
Best Selling in the Head Gear Category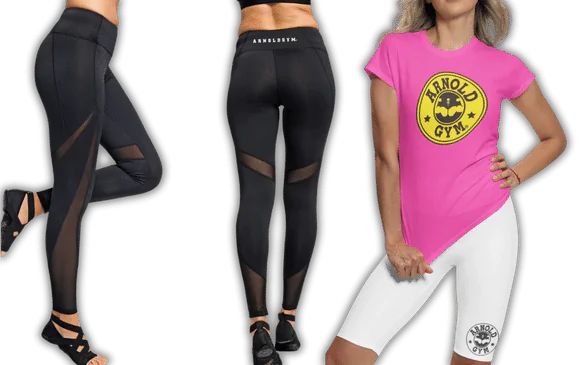 Women's Fitness Fashion
Hurry and get discounts on all Arnold Gym products
Body Type Characteristics There are three fitness body types: the ectomorph, the mesomorph, and the endomorph...
Arnold Gym Official Website
Welcome to Arnold Gym, the home of premium gym wear and bodybuilding apparel. We strive to redefine the boundaries of comfort and style with our range of gym tops and activewear. No longer will you have to compromise between fashion and comfort - our products offer the perfect blend of both.
At Arnold Gym, we go beyond ordinary t-shirts, offering a diverse selection of high-quality gym tops in various styles, colors, and designs. Our tops are crafted using a combination of polyester and cotton to ensure optimal comfort and durability. We prioritize comfort by incorporating small, ergonomic stitches that eliminate any discomfort during workout sessions, making our gym tops a perfect fit for athletes of all levels.
Choose from our classic t-shirt style or opt for our logo printed designs based on your personal taste. Our gym t-shirts are designed for both men and women, providing a wide range of sizes to accommodate every body type. Thanks to the use of fade-resistant fabrics, our gym tops maintain their vibrant colors even after countless washes, ensuring they withstand the rigors of regular workouts.
Unleash your confidence with our long-sleeve and short-sleeve gym t-shirts, designed to accentuate your body's lines with their perfect cuts and seamless designs. Don't let the weather hinder your performance - our long-sleeve t-shirts are made from warm fabrics that enable you to train outdoors in all seasons. We also offer a range of sports tank tops, allowing you to stay cool and comfortable during intense workouts.
Experience the freedom and comfort of our sleeveless gym tops, optimal for high mobility and intense workout sessions. Made from breathable polyester blended fabric, our sleeveless tops keep you cool, fresh, and dry throughout your training sessions. They are the ultimate choice for the summer months and ensure you stay ahead of the style game.
Our gym tops not only excel during workouts; they also serve as versatile wardrobe staples that seamlessly blend with your daily attire. Whether on the streets, cafes, school, or work, our gym tops will make a statement wherever you go.
We take pride in our innovative designs, catering to all sports and athletes. Our active t-shirts, known for their lightweight and quick-drying properties, enhance your performance while providing unmatched comfort. The flexible structure ensures unrestricted movement, allowing you to focus solely on your workout. Our sports tops aren't limited to athletes alone; they are a must-have for sports enthusiasts and those who appreciate an active lifestyle.
Elevate your gym wear game with Arnold Gym's premium collection. We bring style, comfort, and innovation together to empower you on your fitness journey. Explore our range of gym tops and active wear today.